The Suwannee County Sheriff's Office is working to develop new leads in the case of a woman who disappeared more than 42 years ago. Now with an enhanced reward and additional resources for reporting, we are looking for information that will surface in reference to her disappearance.
The Florida Sheriffs Association is partnering with the Suwannee County Sheriff's Office and Crime Stoppers of Suwannee County to offer an additional reward of $5,000.00 as part of the Florida Sheriff's Association Criminal Apprehension Assistance program (CAAP). The increased reward is to encourage additional information on this unsolved case. Crime Stoppers of Suwannee County offers a reward up to $1,000.00 for its tipsters. You can submit a tip on-line or with our new P3 App that is available for download on all smartphones.
20-year-old Debora Howard disappeared on September 24, 1976. Investigators say she had gone to a bar in Lake City, with her boyfriend, George "Alan" McCraney, and some friends.
Debora had brown hair and green eyes, and wore glasses at the time of her disappearance.
YOU CAN AND WILL MAKE A DIFFERENCE!
REMEMBER SEE SOMETHING SAY SOMETHING!
CALL OUR TIPS LINE 208-8477 (TIPS)
REMEMBER YOU ARE THE EYES AND EARS OF OUR COMMUNITY, GET INVOLVED BUT YOU CAN STAY ANONYMOUS. HELP PREVENT A CRIME IN YOUR AREA.
ATTENTION STUDENTS IN
SUWANNEE HIGH SCHOOL,
BRANFORD
HIGH SCHOOL AND
SUWANNEE MIDDLE SCHOOL
YOU CAN NOW SUBMIT A TIP USING OUR
YOU CAN REPORT PLANNED VIOLENCE
AND WEAPONS ON YOUR CAMPUS SAFELY AND NOT BE IDENTIFIED
WE DO NOT WANT YOUR NAME JUST YOUR INFORMATION KEEP YOUR CAMPUS AND YOUR FRIENDS SAFE REMEMBER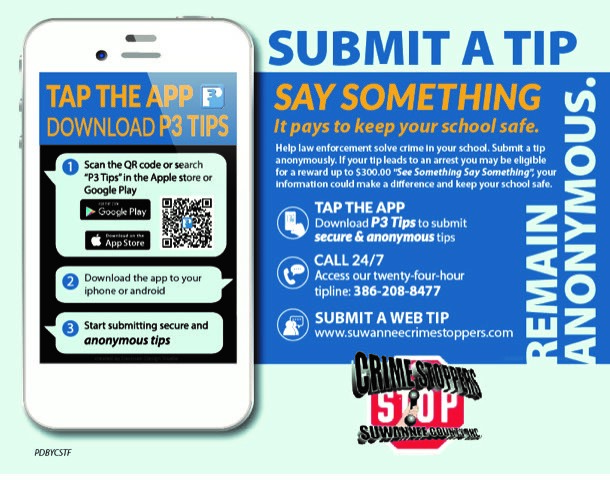 CALL OUR TIPS LINE
386-208-8477
PDBYCSTF